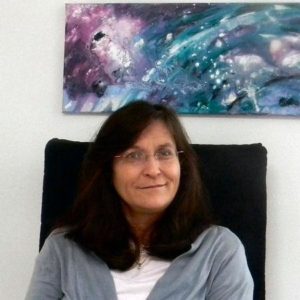 Claudia Alaniya Patton,  PDHom(UK)
I grew up in Switzerland and lived there for 34 years. In 1995, I immigrated to the Pacific Northwest of the United States and created a home in Eugene, OR. After many explorations in the business world, I found my true calling as a Classical Homeopath, writer, and artist. I was inspired to study homeopathy while being pregnant with my first child, as it reminded me of my own childhood visits to our family's homeopath in Switzerland. I decided to study classical homeopathy in earnest with The School of Homeopathy in England's 4 year long distance program and earned the Practitioner Diploma PDHom(UK). I had the opportunity to study with some amazing homeopaths at the school's faculty, notably Misha Norland, the founder of the school, as well as Janet Snowdon. My special appreciation goes to Ian Hamilton, my tutor, who guided me with amazing insight through the course. I began practicing homeopathy in 2003 and completed the course's required clinical supervision during those earlier days in private practice.
My studies gave me the opportunity to absorb the material at a very deep level and I found myself going through a paradigm shift, which allows me today to see health and disease in a holistic manner. Earlier in my life, I passionately explored my innate gift for languages by learning to speak 5 major languages. This is the lens through which I perceive and understand the vital force's expression through the symptoms of body, mind, emotions, to the underlying common sensation that permeates everything. Once exposed to the Sensation Method of case taking and case analysis, by Dr. Rajan Sankaran, I instinctively understood the parameters and quickly absorbed the principles of this method and saw how they fit in seamlessly with the basic principles of Classical Homeopathy. In this method, I had found a manner of practicing Homeopathy that brought excellent results and comes like second nature to me today.
Aside from practicing homeopathy, I enjoy sharing homeopathic principles with my patients and others. In my free time, I enjoy expressing my creativity as a writer of philosophy and fiction, and I occasionally indulge in the world of color and shapes, which I express in abstract art. I am passionate about spiritual evolution and inner freedom. Over the years, I have explored many different paths, but never settled on one particular one to this day, always forging ahead on my own. I have found that homeopathy contains many universal truths that are reflected in other wisdom traditions as well.